30 Days of Wellness
Ready to challenge yourself to adopt healthy habits, have more energy, and feel your best...every day? The Key Nutrients community is here to help you unlock your best health and cheer you on – let's do this!
Over 5,000 5-star reviews
Natural, non-GMO supplements
A US veteran owned and operated business
30 Days of Wellness is the perfect starting point! Throughout the challenge, we'll guide you through meal plans and exercise routines, as well as help you track your progress. This challenge can work for any healthy eating plan so you're welcome to choose your own. From Keto to Paleo to Plant Based, pick a framework that works for your lifestyle and we'll help you stick to it.
Nope! We're going to help you build a sustainable way of eating that you can use as your lifestyle, not just a short-term quick fix where you have to starve yourself. This is about building smart habits that you can use for the rest of your life to maintain your best health every day. No crash diets here!
We've designed our exercises for beginners. Prepare to be challenged, but this isn't boot camp! We've calibrated our fitness program to get your body progressively used to each exercise, making for maximum efficiency with each work out.
We hold you accountable for your progress through regular reminders to log your macros and weight. We also keep your friends and family in the loop, so they can rally you when you need it the most.
Plus the Key Nutrients community of over 25,000 friends will be joining alongside you, cheering you on!
30 Days of Wellness: What To Expect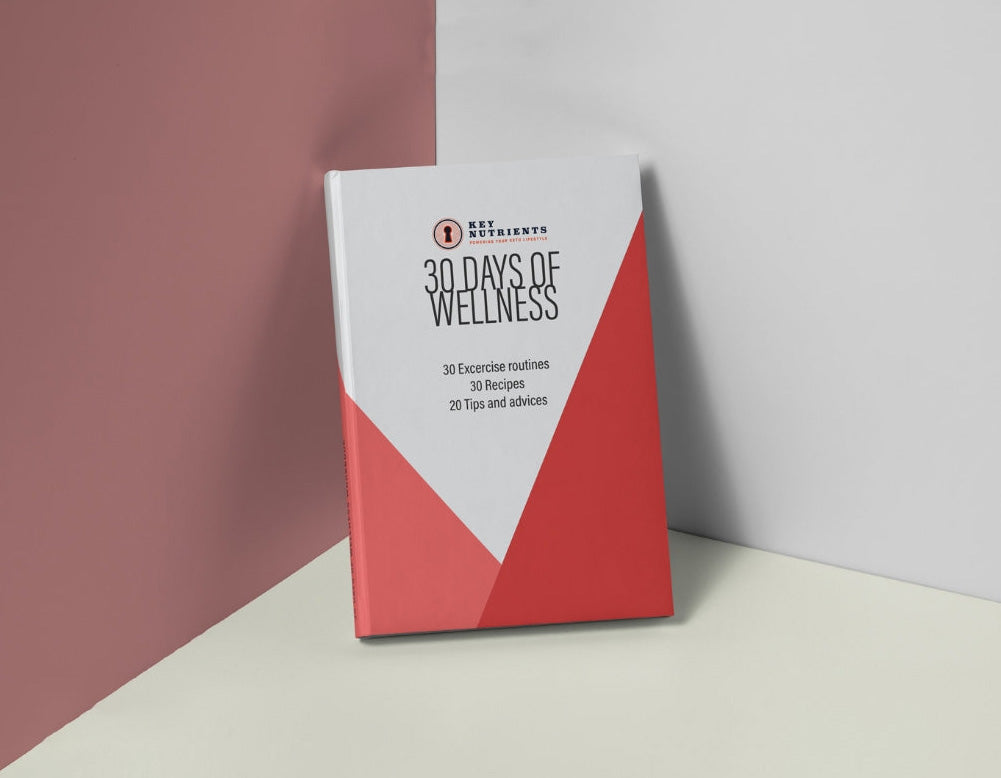 Get a Delicious Recipe and Energy-Boosting Workout Each Day
Our free interactive workbook is specially designed to keep you on track towards your weight loss and health goals. It includes:
• Appetizing whole-foods recipes
• Daily goal-oriented fitness routines
• Grocery store traps to avoid
• A fitness and health tracker to log your progress!
Log Your Macros
We make finding your macros easy with our intuitive Macro Calendar!
Enter Your Measurements
Track your progress with our measurement calendar. Weight loss and health goals, here you come!
Keep Your Friends Updated!
Ready to be cheered on? Keep your tribe updated as you lose weight and boost your health!
30 Days of Wellness Success Stories
Keto Coco
I love a good winter drink! I used Key Nutrients Keto Cocoa McT Powder and fell in love! It is a great way to get in your MCT oil while doing keto! MCT helps you lose weight because it is quickly burned and metabolized!
@TIFFANYEVERINA
Multi-Collagen
Coffee with Key Nutrients Multi-Collagen is typically what breaks my fast. The caffeine gives me energy, and the collagen is tasteless, so I hardly know it's there!
@DEFINITELYNOTKATHY
Lights Out

I've tried tons of sleep aids. Plain old melatonin doesn't cut it for me. I've been taking Lights Out for about a month, and it's a game-changer! It's a great blend of sleep aids that keep me down in the night, and I wake up feeling refreshed, even when I'm in that deep state of ketosis.
@FATGAL2FITGAL
Still unsure about getting started? Try a Wellness Kit!
Need an energy boost alongside those healthy meals to get you through the challenge? Our naturally derived supplements are delicious additions to your healthy habits. With no added sugar or artificial ingredients, you can replenish your electrolytes for optimal hydration, increase your protein intake, and support healthy joints and skin. Curb cravings, increase endurance, and burn more fat faster with the starter pack that's right for you!